Originally titled
[Patch] Mithril Shop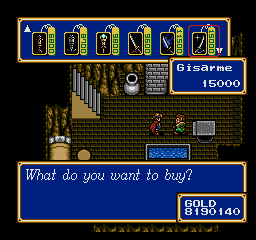 Bowie: "I'll, uh, have a Gisarme, please."
Does exactly what is says on the tin.
More precisely, this implements a customized routine which let you access an exclusive shop and buy a single weapon in exchange for a piece of Mithril. Gotta pay the full price now, though!
The .ips patch below is Plug & Play and meant to be applied to a vanilla rom. It simply lets you buy the weapons that are normally available through the blacksmith.
But there's more!
For modders, I've added support for multiple kinds of materials that the blacksmith will accept, each granting access to its own shop. So, it's now fairly easy to have, say, Small Mithril to craft magic rings and/or Dark Block for cursed weapons as in SF3.
Try it for yourself!
Load the included save state (Kega Fusion) and see how the blacksmith reacts when you hand him a Wooden Panel or Cotton Balloon.
Modding instructions:
Code:
blacksmithactions.asm
Patch:
sf2-mithril-shop.ips
EDIT: Updated .ips patch download link.