Greetings Shining Force Central~
I am creating this thread so I can post updates about my current Indie game Project, a ShiningForce-styled game. I hope to use this place to poke at your collective brains and listen to feedback straight from other fans of the SF series~
Introduction~
Me and a friend have been working in Unity3d on various little indie games in the past year(s). Our first big-ish project was a beat-em up with Robot-girls, it had a lot in common with Cyborg Justice (Actually, I may still have a web-playable version of this somewhere if anyone is interested...). Next I tried to get inspiration from the new X-Com games and make a skypirate tactical game (Which was to feel like a Steam-punk, anime version of Rum& Bones, if you are familiar with that board game). That one died a pretty quick death, because I felt like I was trying to reinvent too many things and couldn't really tell if I was going in a good direction or not.
After that project died, I took a few months hiatus from game design and worked on my art. I got better, and still have a lot of room for improvement, but I got to the point where I didn't feel like just drawing for drawing's sake -- I wanted to put that art to use in a game. But instead of dropping it in that Skypirate game, I got to thinking; A Shining Force-type project is something I've been dreaming of making since I was in highschool (That's a LONG time ago..), and at that moment, I told myself that there isn't anything profoundly complicated in those games.
My Co-Dev and myself share a love for SRPG (He likes the Fire Emblems, and I'm Shining person). And we totally have the skillsets to make such a project happen. Obviously, there's a lot of need for art, and the usual bottlenecks will be there in front of me -- level/map design, encounter design, town design, story design, character design, art/animation... And for the most part, all of those hats fall on to me.
Napkin math indicates that it will take me roughly a year before all the Force are drawn and animated, if I keep a steady pace. So I don't really see this project ending soon, unless I burn myself out. But at the same time, it's something I feel like I _have_ to do, so I'm going to try and keep on trucking. Thankfully, if I get tired of art or level design, I can always go and poke shaders, code, or write dialog lines.
Still, in order to allow my co-dev to create features, I will have to touch a bit of everything -- background, maps, enemies, allies, spells, animations, and that will probably lead to a Vertical Slice demo of sorts, once we have enough of the key systems in place.
The Game
What's up with the name of the game?
I don't have a name yet! Nekoforce is just my co-dev preying on my love of catgirls (he knows me well) when he created the project folder. It's a fine name while we're in dev, but I'll have to figure a real name someday.
So, what's special about my Shining Force Project to separate it from all the others?
Well, unlike many other projects, I'm not going for pixel art / retro grahpics -- I don't have a talent for it. I don't really know how to do 3d either, so instead I will draw regular 2D art and try and get it to work.
I'm also not going for tile-base map design -- I feel that with today's computers, it's not really helpful. Instead I draw a picture which is the map's visuals, and in combat mode, I apply a logical grid behind it. I'm still not clear on the art direction for the map itself, in my current prototype I use a map of the 2nd battle of SF2 that was drawn in Crayon pretty much. Cute, but probably not what I'm going to end up doing for the real product.
I'm planning to have multiple endings, based on player actions. My current design is to observe the player's behaviour in combat and determine the outcome of the story based on that. Similar to how, I think, Ogre Battle does it. I'm not clear yet if I want the player to be able to determine the branching through dialogue choice or actions in the exploration segment, or if it should be solely from how you fight.
What's making my project a "Shining Force Project"?
As far as battle and systems go, I am planning to follow the SF formula as closely as I can -- movement range, spell, damage rules, size of the force, promotions, secret promotions
I plan to keep the staple cute anime portraits with blinking eyes and animated mouth when they talk.
Secret characters~
Humans, Dwarves, Elves, Werewolves, Dragons, Harpies, Robots and all sorts of weird humanoids/monsters in the team!
Things I'm still on the fence about
Should the main character be a silent protagonist or not.
Should the storyline between battles be told in a VN style (I really enjoyed Utawarerumono on the PS4), or the more classic SF style. (I know the exploration / mini cutscene of SF are really part of the game's DNA)
The Cast so Far
Amreen
, the main protagonist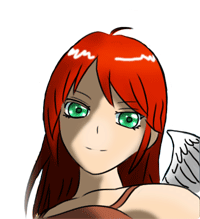 Amreen is the daughter of the Minister of the trading town of Kuzumur, a crossroad between many kingdoms.
She was born with tiny nonfunctional angel wings, which lead many of the other children around her age to tease and not associate with her. Despite this, she remains cheerful and well-behaved.
Leela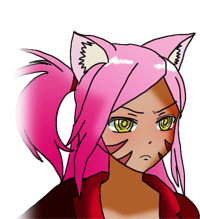 Leela is bit of a tomboy and very protective of her "little sister" Amreen (who is actually taller than her). Her explosive temper tends to get her in trouble.
Surion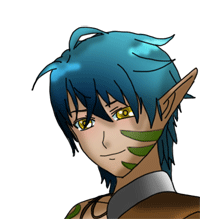 An archer, part of a small detachment of warriors sent to help defend Kuzumur by the neighboring Elven nation. He is wise, skilled with the bow, and has many times helped Leela and Amreen avoid AND get out of trouble.
Screenshots
Straight off the build~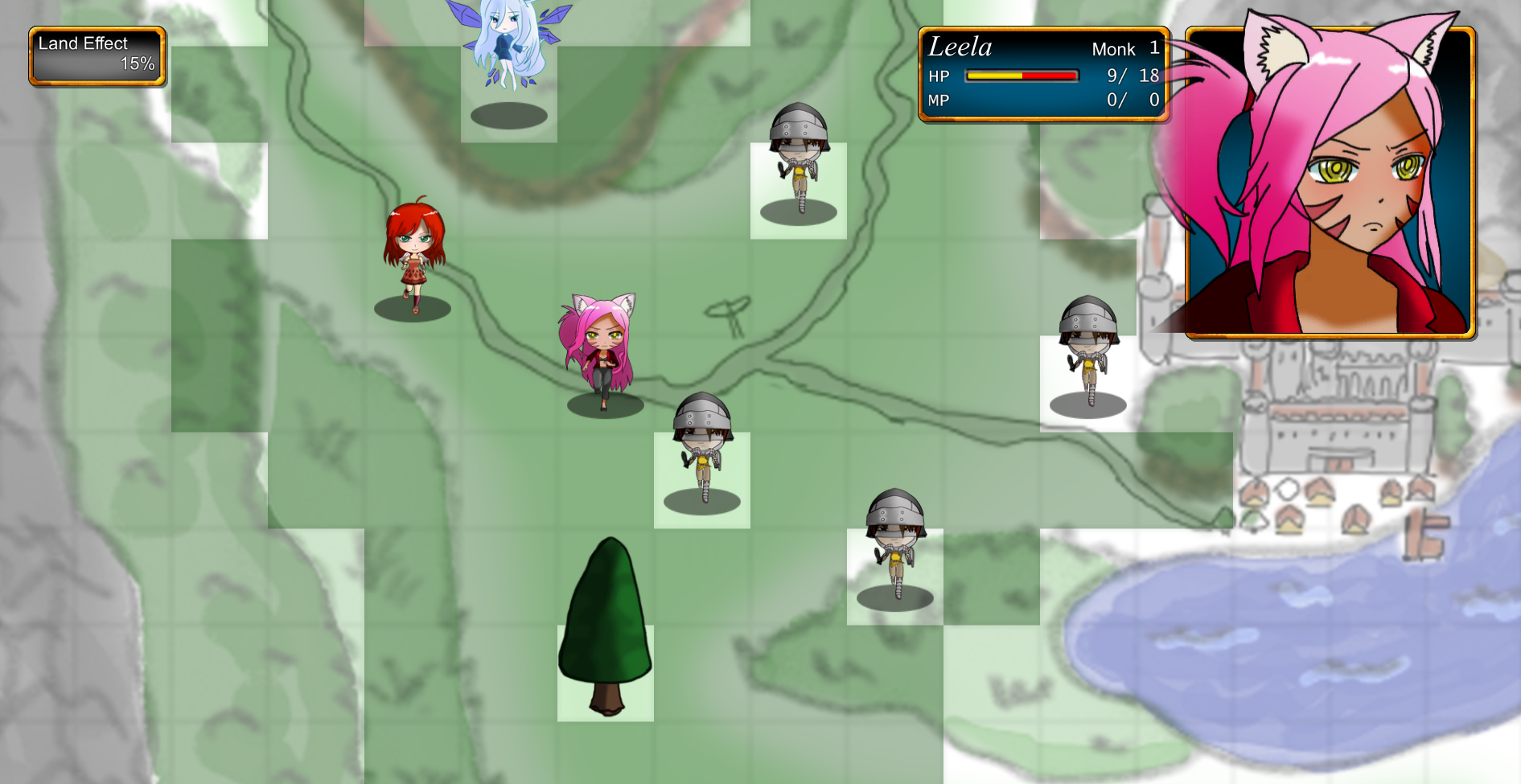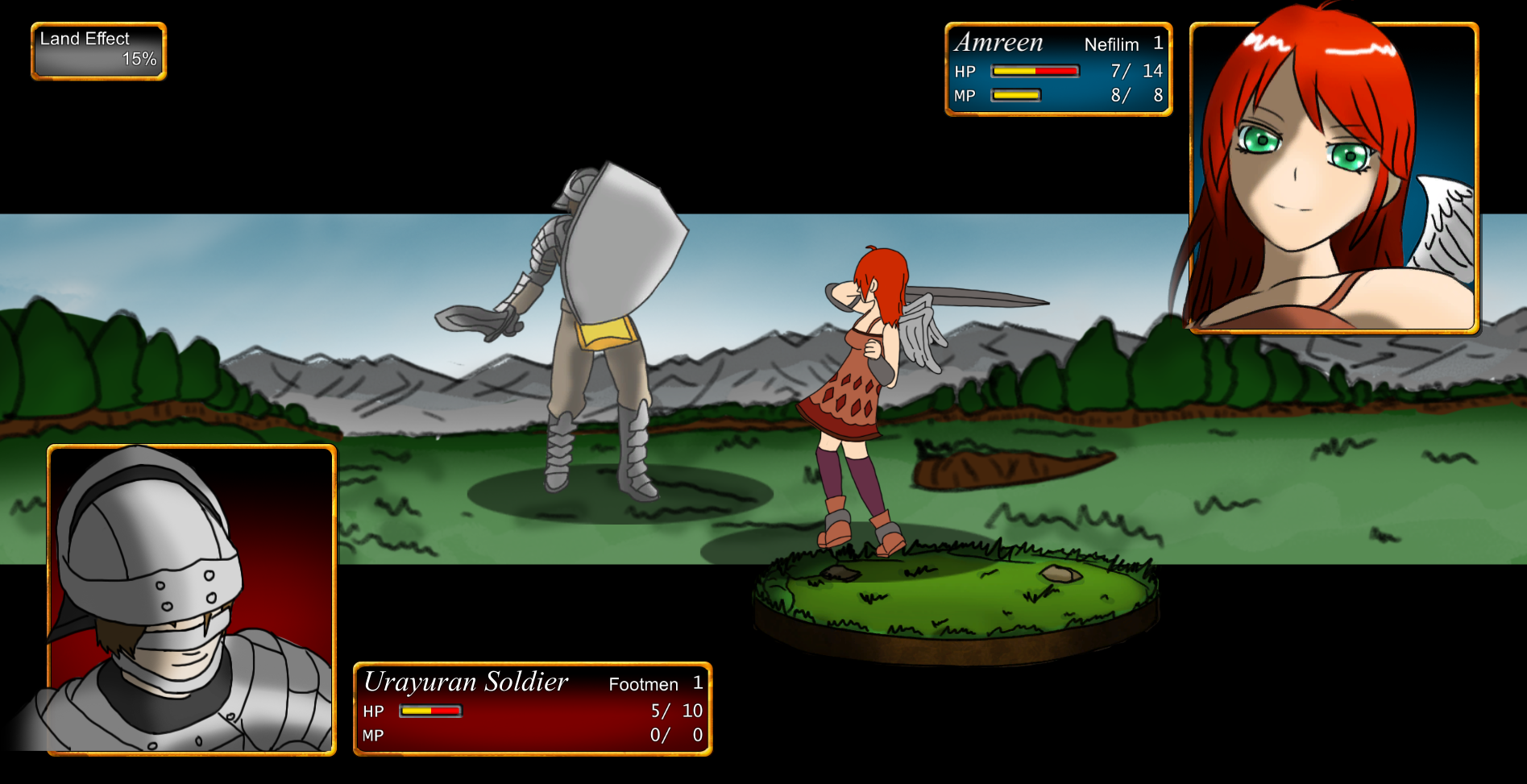 I need to take time to draw a map of my own and redraw that CombatScape background, since both of those were pretty much lifted from SF2...
Anyways, that's all for now!
*Edit 1: Added Surion in the cast.