Thanks again, Stor!
Alright... it's not much, but I do have some shining force art that I've done via Miiverse. Thought everyone would like to see it, since many probably don't have Wii U's or don't know about Miiverse's website. Anyway...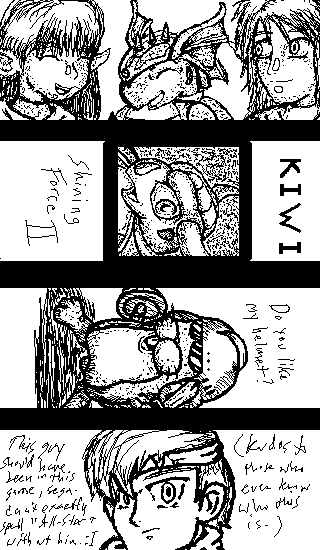 There are actually four different drawings here, but I just combined them into one image.
I was only starting to get used to drawing on the gamepad when I did Max on the bottom, there. And the "this game" refers to Sonic and Sega All Stars Racing Transformed. (there's a Miiverse community for the game.) Yeah... I was a little disappointed (but not surprised.) not to see him. Vyse made me happy, though.
Randomly felt like drawing Jogurt one day, so I did, lol. Same with the other two pics. Yep... Kiwi got some love, haha. x3