Some of you may remember that near the start of the century, around the time of SS2's release, Moogie made a number of Yog plushies, in repsonse to the official ones Sega had released (which I understood were a little subpar). IIRC there were a dozen little plushies, a few medium sized ones and one huge plushie. They were made in limited release, and the lucky members who were able to get their names on the list were able to become proud owners of their own official SFC Yogs (complete with tags and certificates).
Well, I thought it was time to see how all the little blighters were doing - as well as get a reminder for who had which plushie.
Well, here's the tale of how Lil' Yog #08's doing!
--------
I meant to do this thread since back in March, and yesterday would have been an ideal time to conincide with SFC's birthday... sadly my new work contract got in the way so I never got round to it until now... though funnily enough it's because of that contract that I was able to find him!
You see, with all the bits and pieces in my room I seemed to have misplaced him ages ago... I knew I'd had him sitting on top of my wardrobe, but at some point he must have fallen down and I couldn't seem to find him for ages.
That was until last March, when I was clearing up the corner of my room to get rid of some junk, rearrange/tidy the various CD & DVD racks there, and on the whole make room for a computer I'd be given for my work contract and make a generally clear enough area for working form home (And having access to two computers at once).
The major event that's relevant to this thread was when this lot fell on top of me.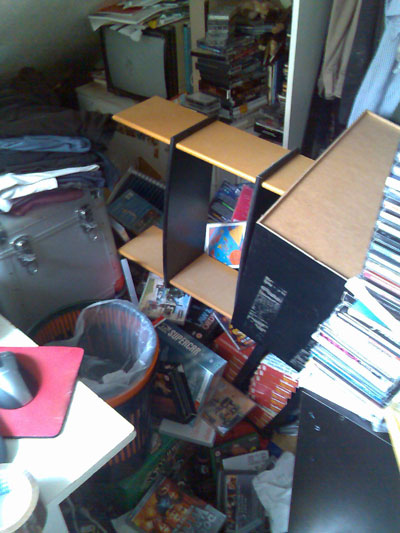 In case you're trying to work it out, that includes a case with four drawers of 12 VHS tapes each, a DVD rack with at least two dozen DVDs (including box sets), and a CD rack with the best part of 100 CDs. Not pleasant, and bloody painful.
However, a badly bruised and sorely numb right side of my body didn't seem so bad when I found that the little bugger had been hiding behind them all along!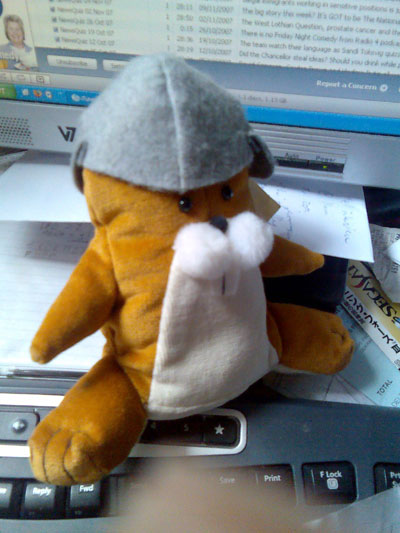 And so, he's now safely sitting on my brother's old desk on the other side of my room with the singing & dancing dog I got last Christmas. Plus I've given him a Yog badge I also found during my tidying, having been missing since I got it at one of the Shining Only events.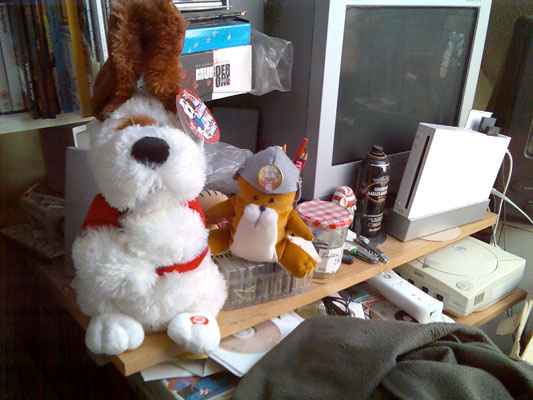 --------
So who's got the others and how are they faring? Any exciting adventures they've been up to over the years?